The Iranian embassy in Baghdad has turned into a room for Maliki's success and closed meetings with a "Sunni party", according to a newspaper
Wednesday, May 30, 2018 at 13:26 pm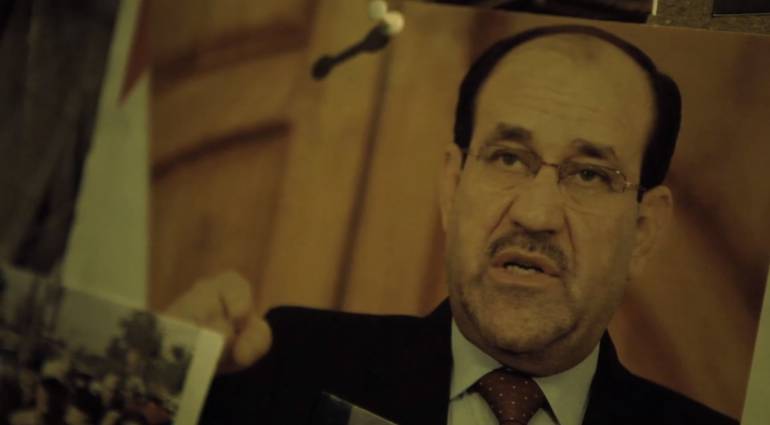 Follow-up / Sky Press
The newspaper "Okaz" Saudi report on the political situation in Iraq addressed to the return of the commander of the Iranian Quds Force Qassim Soleimani to the scene again for the formation of the new federal government.
The newspaper said in the report issued on Wednesday that "Iran refuses to get out of the Iraqi political equation, despite the blow hitby the results of the elections to Tehran and its followers alike," noting that Iran is seeking all its strength to reverse the election secretions and moved the official Iraqi file in the Revolutionary Guards The Iranian Qassim Sulaymaniyah to carry out this difficult task, but he was unable to make any violations in his first attempts after his plan was thwarted by the failure, "according to the report.
The report added that "Soleimani seeks to mix the cards, and turn the table on the election results through the support of Iran to the head of a coalition of state law, Nuri al-Maliki and the Secretary-General of the (Badr) Hadi al-Ameri to form alliances to establish the largest bloc within the parliament to allow the owners to form a government, Sulaymani "began to move all Iranian tools in Iraq to convince the political forces after entering any coalition formed of the alliance (victory), led by Abadi, and the alliance (s), which Sadr said).
"The Iranian embassy in Baghdad has been turned into a room for the success of al-Maliki's endeavor, and it has begun to engage with political forces, and held intensive meetings with the Sunni Party of Solution, which won 14 seats in the elections, as well as the loyal figures in the Sunni and Shiite forces."
The report pointed to the "political temptations offered by Maliki and the Iranian embassy to the Kurdish forces to enter into with the coalition of al-Maliki - Amiri."
skypressiq.net