The impossibility of the "manual" sorting process after the fire incident
Wednesday, June 13, 2018 at 10:23 am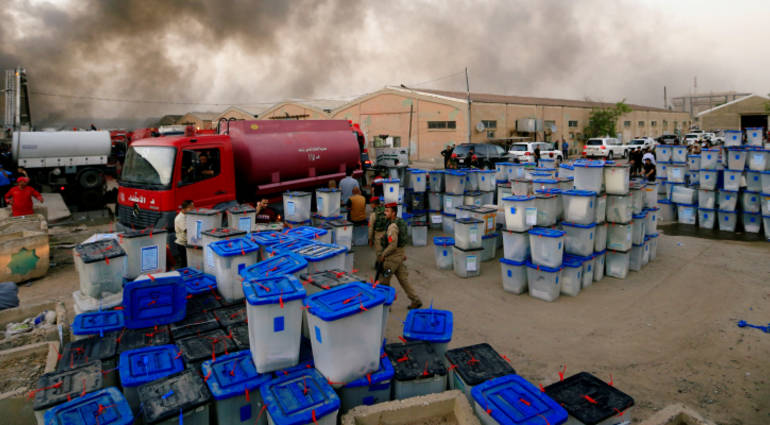 Follow-up / Sky Press
A number of ballot boxes have been set ablaze in Baghdad, a tragic end to an election in bad conditions. Although new elections under these conditions have become inevitable, this may at the same time divide the country, Deutsche Welle said .
As smoke billowed from a polling station in Baghdad, people familiar with the political scene were certain that a large part of the votescast during the last parliamentary elections held in mid-May would not be re-sorted After the flames consumed a large part of the ballot boxes. For weeks, the losing parties in the election have challenged the results, prompting them to call for new elections, and there have been rumors recently about electoral fraud. In response, the Iraqi parliament voted last week in favor of a recount, which was ruled out after the fire broke out recently.
In fact, Iraqi politicians do not believe that the blaze was a coincidence, as confirmed by the Speaker of the Iraqi Council of Representatives, Salim al-Jubouri, when he said that "the fire is a deliberate and deliberate crime intended to cover the Fraud and manipulation that marred the results of the elections. "Because he lost his job in the light of these results, called Jubouri to hold new elections in the wake of the fire The Jubouri said that" the re-election must be again. "For his part, Hadi al-Saadawi, that the fire is deliberate.In fact, the fire is considered a store p "The Iraqi parliamentary elections were disappointing after it turned out that voter turnout was low," said Foreman, who heads the office of the Konrad Adenauer Foundation in Syria and Iraq, After the success of Iraq in the elimination of the organization of the state, did not mean a large number of Iraqis polling stations because they did not realize the importance of the election against the backdrop of losing confidence in all political faces that run the wheels of the state. From the point of view of a wide spectrum of the Iraqi people, the parties that have failed to tackle rampant corruption in the country can not take up sensitive positions again. "
skypressiq.net